This is Part Two of an Ongoing Series on Internet Spell Casters. You May Want to Also Read Part One, Part Three, Part Four and Part Five
---
Update:
After posting this article, and several thousand people reading it, all the websites listed here have now disappeared. I have collected and compiled screen captures of most of them however, and you can still see what they look like. Most are interspersed within these two articles, but the following are the most important:
FastSpells.com's Homepage
,
FastSpells.com's Health Spell Section
, and the page for
RateTheCaster.com
. As I piece together more screen grabs, they will be listed here as well.
Second Update:
I should note that I missed one of her sites. Brittney is also the operator of
http://www.magickthatworks.com/
, which at this moment is still operating. (Note: Within the time it took me to post this update the site was down)
---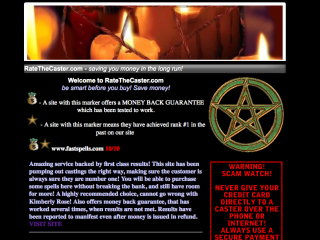 In my last entry to The Craptacular Web I wrote about FastSpells.com and their Front Website RateTheCaster.com. For those of you who haven't read that particular article (and I seriously recommend you do), FastSpells.com is a scam website that claims they will cast Magick on your behalf for various sums of money. They claim to be able to find you love, give you an abortion, cure your cancer, grant you immortality, and change you sex organs.
No, I'm not kidding about any of those.
RateTheCaster.com is a front website they run to promote their scam sites (there are at least 3 they own... but I'll get to that in a minute) which pretends to be an independent review site. The scam is a fairly dirty one, and needless to say, as it uses the name of my faith to perpetuate itself, it's one that pisses me off quite a bit.
They prey on people, and if what I've read on RipoffReport.com is true, the refund policy is just as much the lie as I assumed it was when I read it. Because of that, I couldn't leave well enough alone with the last installment. I just had to dig... deeper.
One thing FastSpells.com severely lacks is
any real world contact information
. For most people this should be the first sign of a scam by the way. I had to know more about the people and/or person running the website, and that was going to make it difficult.
It became fairly clear to me early on that the supposed "Kimberly Rose" was a construct created for Marketing purposes. The book, the websites... all a ruse to add an air of legitimacy to an otherwise totally fraudulent site. The only contact information available through the entire website was the PayPal account that they accept money through: frenchchick227@gmail.com

The Supposed "Coven of Four" - Note "Brittney" on the Right
A quick google search for frenchchick227@gmail.com first led me to stores.ebay.com/The-Coven-Of-Four-Magick-Shoppe, the dead eBay store for a group called "Coven of Four." If you've looked at "RatetheCaster.com" you might recognize that name as one of the "Top Rated Sites" -- the only one of the top Three that isn't FastSpells or folded into FastSpells. The one strange bit here is that this eBay store led me to discover that there are, in fact,
two
different websites for the "Coven of Four" -- covenof4.com and dreamthroughmagick.com. The coven of Four is supposedly led by a girl named Brittney. At first I thought this was a false name... but I discovered it might be our culprit. I will mention that all of the details about the "Coven of Four" appear to be total Bull Malarky. I won't bother to go too deeply, since I covered the ludicrous nature of what they're doing so much in my earlier article.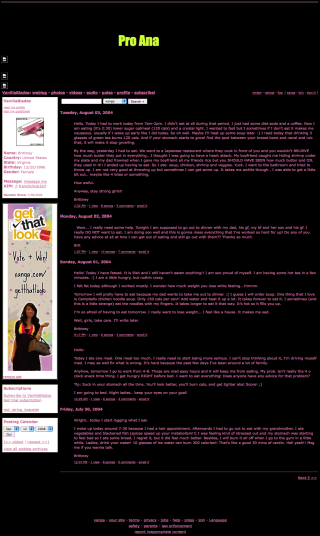 Brittney's Creepy Website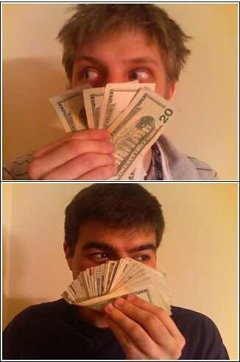 Dave? Kevin? Brittney Reynolds with a hair cut? Two of the Scammers Behind TheMillionDollarPiggyBank.com
Further searching for frenchchick227 led me to a Yahoo review for a Virginia based computer store. I don't know if there is any connection or if it's a genuine 5 star review, but it confirms that our frenchchick227 at least lived in that general area at some point.
That in mind, I kept going. Things finally clicked when I switched search engines, and ran across the excessively creepy part of this journey: www.xanga.com/VanillaBlades
This is the Xanga page for Brittney from Virgina. Brittney, whose IM username is (you guessed it) frenchchick227. And what is this Xanga page about of all things? How she's "Pro Ana." Yeah.
For those unaware, Pro Ana is the exceptionally creepy Pro Anorexia movement. You heard me. It also gives us her a possible birthdate (12/25/1986 - but as its Christmas I take it with a grain of salt), along with the creepy details of her creepy life when she was 17. So, "Kimberly Rose" is really young Brittney from Virginia (who has an eating disorder) it seems.
Maybe.
Things continued to get strange as I looked through MySpace and Facebook. A MySpace search for frenchchick227@yahoo.com brought up myspace.com/themilliondollarpiggybank -- a website for an earlier scam. Now, this particular MySpace page claims it is for two guys who were running the most basic of lottery scams over a year ago. Two
guys
. One looks a bit like a Dave or something. Now, this is what I was expecting before I ran across "Brittney," but I digress. Following that I did a quick Facebook search for the e-mail address and came up with one name: Kevin Reynolds of Norfolk / Virginia Beach, VA.
Kevin Reynolds?
From this I presume that Kevin
might
be one of our "Pigs?" The fact that he shares his initials with the supposed "Kimberly Rose" seems more than coincidental as well. Sadly, there are a ton of people named "Kevin Reynolds" in Virginia, so it's difficult to narrow it down. Is this several people working together? If there are more, I'm not sure. Are they related? Is he her father and the photos are two random other guys? Are they dating? Who knows.
But I wasn't done.
I decided to do some undercover work to find out what I could. I posed as a potential client and sent a message to Fastspells. I dug up one of my spare GMail accounts and sent this message:
OMG Im rlly interestd in buying a luv spell from U but I dont use PayPal - culd I send U a check instead?
I signed the message as "Lynn Baxter," a character name the five people who read "Full Circle" might recognize. I know the actual message is painful to read... but the last thing I wanted was any chance she might connect it to my writing style. Also... I wanted to emulate one of the stereotypical kinds of people who would genuinely write to them. Thankfully, Kimberly sent me a response:
From: Kimberly Rose
To: Lynn Baxter
Subject: (none)

Hi lynn,

Yes, absolutely - why don't you tell me some more about your situation and we can go from there? I can recommend something TOTALLY perfect for you - and that would definitely help us get along, with this =) I want you to be happy - so let's start with more info =)

Love

Kimberly
My first thought was "Oh crap, now I have to come up with a story." My second thought... I sent to her:
From: Lynn Baxter
To: Kimberly Rose
Subject: Re:

I just found out my bf has been cheating on me w/ my supopsed best friend for liek the last 2 months. I want him 2 stop messing around, and I want her 2 get like giant crabs or sumthing.

if U could help, it wood mean a lot 2 me.

~~lynn
I know, my english is absolutely painful in that one. I got a very fast reply from "Ms. Rose" though:
From: Kimberly Rose
To: Lynn Baxter
Subject: Re:

It's ok hun.I can help you - I will offer you my stage iv premium custom work - regular price 2250.00 -for the price of materials only. Materials run 284.00 - that IS ALL You'll pay - this work will cover revenge, him FEELING your pain, him getting back with you SHOWING YOU ARE THE ONLY ONE THAT MATTERS ETC =)

You will LOVE THIS =)

<3 I can start as soon as tonight! Please let me help you. I know you are just going to LOVE THIS SO MUCH! and It would be my PLEASURE to help you.
Dear lord... she's trying to claim that 284.00 is a
deal
. Got to love a scam artist with balls like that. I quickly wrote back, as I still hadn't gotten what I came for... a real name. So I fished for more:
From: Lynn Baxter
To: Kimberly Rose
Subject: Re:

OMG that is so nice of U!

But I dont have paypal, so culd I send you a check instead?

~~lynn
And then... finally... the holy grail. "Kimberly Rose" wrote back to me:
From: Kimberly Rose
To: Lynn Baxter
Subject: Re:

Sure =) and NO PROBLEM. Alright =)

You can make the money order out to:

Brittney Reynolds

(do NOT make it out to me please, I am not in this state to cash it, this is my accountant and her office addy)

And mail to:

Brittney Reynolds
20770 US 281 N #108-104
San Antonio, TX 78258
United States

Make no reference or markings on the money order itself instead, =) Include a piece of white paper with my name and yours neatly printed. This way she can let me know that you have paid ok =)

That should do it!

Love

Kimberly
Jackpot! Mystery Brittney is Brittney Reynolds, originally of Virginia, moved to Texas, and possibly born 12/25/1986. The address listed, after a little bit of sleuthing, is a drop box at a UPS Store. As Brittney is 21, I seriously doubt she's an actual accountant. I think we all know who the "real" Kimberly Rose is now.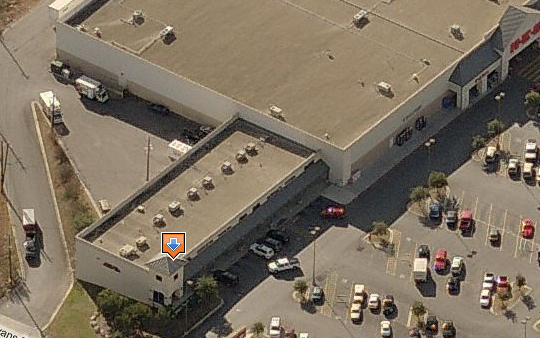 The Location of the Drop Box
Where does this leave us. We know that she must have been in on the Million Dollar Piggy Bank scam, as they used her e-mail address. We know that at one point a Facebook page was made using that e-mail address for a "Kevin Reynolds" from Virginia. We know that the young woman has had an eating disorder, and likely a rocky adolescence. We also know that everything Fastspells.com says on their website is a lie.
And that is the lesson.