As I'm loyal to the town I grew up in,
Anime Milwaukee
is a convention that I make sure that I attend. It's a convention who's con director is a friend (Hey Momo!) and it's in a town that saw it's old con scene evaporate. That said, it's not a perfect one, and while I always want to love it, Anime Milwaukee is usually only about 90% on target for me. I did have a really good time though, and welcome you to my Anime Milwaukee 2010 con report.
And here we go...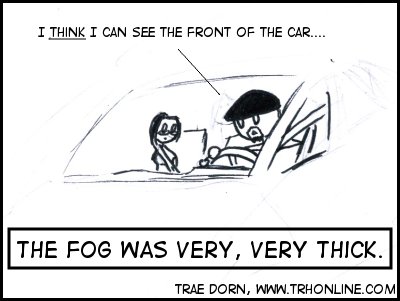 When I say the fog was thick on the way down from Eau Claire, I'm saying the fog was
thick
. I got lost a little bit while dropping off Katie outside of Madison (
see my blog entry for non-con stuff from that weekend
). We pulled into Milwaukee fairly late, and went to bed. I mean, we could have tried to hunt down the official con hotel, but it didn't seem worth it for a room party or two.
For those who don't know, Anime Milwaukee 2010 (like the previous years) was held at the UWM campus union. This means that the con hotel was off the premises of the actual event -- meaning there wouldn't be a huge amount of stuff to scope out after hours.
So instead... we waited. The next day, after taking care of some wedding-planning related stuff, we headed down to the convention.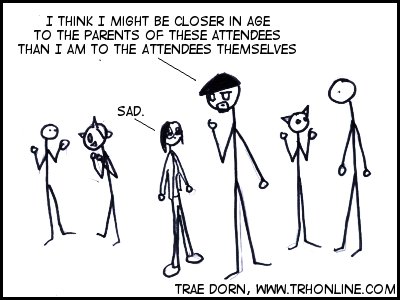 One of the first things that struck me about Anime Milwaukee was not how young some of the attendees were, but instead the
amount
of the younger attendees compared to the older ones. The number of "Under 18" badges walking around that event was astounding. When I attend most Anime conventions I don't feel old...
...that wasn't so much the case here.
The reason for this is simple - the high school kids who can't afford to travel to smaller towns for cons like No Brand Con and Daisho Con can make it to a convention just down the block... and there are a lot of people in Milwaukee.
After registering, Crysta and I almost instantly ran into FirstAgent, who was sitting at the Geek.kon table. We chatted for a bit before Crysta and I decided to explore the rest of the convention.
Anime Milwaukee was much better laid out and secured than it was last year. They used the space much better this time around, and security was much tighter (and the
gaping flaw I found last year appeared closed
).
Most of the afternoon was frankly a blur, as we spent it walking around and hanging out with various friends of ours from the Con Scene. It's interesting, usually most of the people at cons I go to are Con Scene people -- in this case (due to the younger, local crowd) not so much.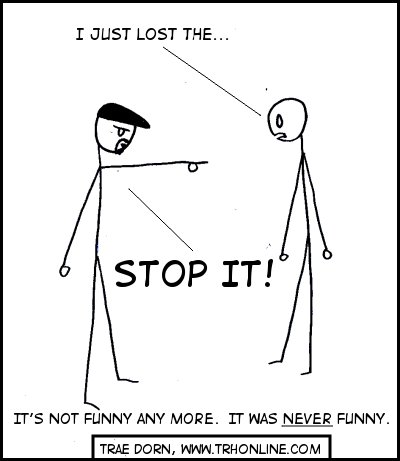 When I went to Daisho Con, there were thankfully very few people playing a certain "game" this year. I was thankful, and I had hoped this ridiculous, unfunny, irritating meme had finally died. I thought that the upcoming
UnCONventional
where I mock it might end up feeling out of date. But Milwaukee decided to not let the evil thing die. Even Momo was playing along...
Geh...
Seriously, guys,
stop it
. Stop it
now
.
Anywho, Crysta and I decided to go see Erika and Yushi's Bad Cosplay panel before the Cosplay contest. Crysta actually saved me a seat, as I was late arriving (but
with
Yushi, so it's not like I missed anything). I will say that while this panel may seem controversial, it is incredibly funny and worth it if you attend a convention where he does it. It is 18+, so not everything is necessarily "family friendly" (or even close) though.
After his panel we headed over to the Cosplay contest. The contest was hosted by Momo (who is very, very good as a host I will add), so other than her own digression into a certain game and her constantly crowd baiting with "Anyone a fan of [Insert Franchise]?" the presentation was awesome.
Anime Milwaukee apparently had decided not to prejudge though, so... yeah... not the greatest for the actual participants. Also, after walking across the stage, the cosplayers were ushered back to the green room. Also... not so great. Fix these issues guys, seriously.
After everyone came out, it was time for the Cosplay Contest intermission, which Anime Milwaukee fills with their answer to No Brand Con's Man Auction -- "The Character Auction"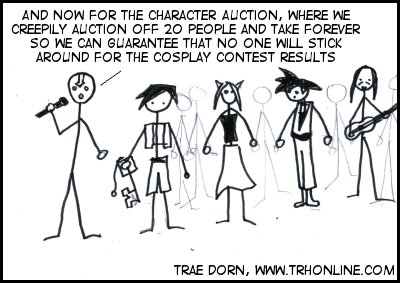 Okay, so this is where they auction off Cosplayers to be "dates" for the dance, in the name of charity. No Brand Con auctions off Male Staffers, but we only auction off men... and we only auction off
eight
of them, as an hour long separate event. Anime Milwaukee was auctioning off men
and
women, and they were selling about twenty of them... during their cosplay intermission.
That sound you just heard was my palm hitting my face.
I have no idea when they finally ended that character auction, as a good half hour in (with most of the characters unsold) Crysta and I decided we were hungry. It was after 9:30pm and we hadn't eaten dinner yet. We headed out to meet up with my friend Chris for a late night dinner at George Webb's -- and I can only imagine how frustrating it was for the Cosplayers who had to be kept in the Green Room.
We opted not to go back on Sunday, so that's where we left the con for 2010. I know I sound critical, but understand that I
did
have a good time at Anime Milwaukee, and I do think it's a good convention. They've announced that they will be in a hotel in 2011, so I'm definitely looking forward to that.
Should you go to Anime Milwaukee? Yes. Yes you should. Please remember that while imperfect, there really is something good happening here.