Geek.kon
is a general fandom convention held every year in Madison, WI. It's one of my favorite cons, and since I missed it last year, I was more than determined to make it for their fourth convention.
I was not disappointed.
Crysta stayed home for this con, as I was crashing with the No Brand Con staffers and she had no desire to sleep on a floor. That said, join me on my stick figure filled con report for Geek.kon 2010!
Friday
I had to work on Friday (although I started early so I could leave at a reasonable hour) so I didn't get on the road until late afternoon/early evening (depending on which timezone you were in). I've driven to Milwaukee many times since I've moved to Indiana, but never Madison -- so I had to drive a route that I'd never bothered taking before. As it was a tollway (where I'd have to pay more money if I took most exits), it left me with one major quandary - finding where to stop to go to the bathroom.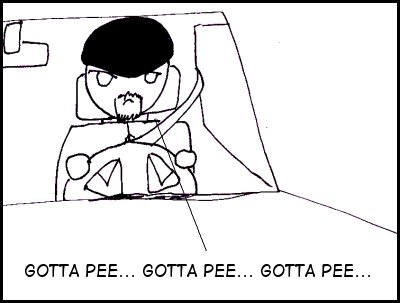 Needless to say, it wasn't a fun chunk of the drive.
I probably got to the con at about a quarter to ten, and I stopped by the staff room to buy my badge (as registration had obviously closed already). I then found some other
No Brand Con
people so I could get the key to our sleeping room. After dropping off my stuff, I spent most of the night talking with various friends of mine who I hadn't seen in months. I think it was just nice to get out and see people in a social setting.
I ended up going to the "Convention Horror Stories" panel hosted by convention guests Chris Ayres and Eric Vale. For obvious reasons I will not disclose the content of said panel, but needless to say if you are at a con where they're doing this... go see it. It's hilarious.
Later that night, hanging out with some random friends, I ended up running into the (infamous) Befu and Vanessa from Verssen Werks. They were heading to a showing of one of their older fandubs, and as I had literally nothing better to do, I tagged along.
It had already started when we got there, but we caught most of it. At some point SeanOrange joined us, and we finished the film. At the end, Sean escaped, and I was feeling tired. The guy hosting the fandub panel was about to put another video on and I announced my intent to go to bed...
...Befu told me I shouldn't.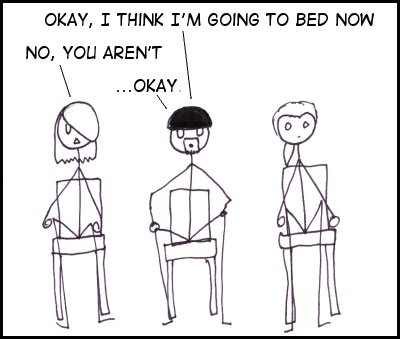 Honestly I think the only reason I didn't go was because I was too tired. After the panel (which was quite late) I realized I had been up for 22 hours (apparently so had Befu) and I went upstairs to crash on the floor of the No Brand Con sleeper room.
Saturday
After a scant three hours of sleep, I woke up early Saturday morning. After taking a shower and wandering around a bit, I ended up walking over to the McDonalds down the block with fellow No Brand Con staffers Yushi and Gen. There's something about conventions which demand that I have at least one Sausage McMuffin with Egg during the weekend. I don't know why, but it's apparently important.
After getting food, I spent several hours hanging out with and talking to Dave (KORFan) of Anime Iowa who was volunteering as a badge checker for Geek.kon. A good chunk of their volunteers came from other convention's staffs. This is because Geek.kon while having an attendance the same size as No Brand Con has only about a quarter of the staff. The reasons are simple: They just held their fourth convention while we're planning our tenth. They grew very fast, while we had the opportunity to grow slowly...
(I say opportunity, but really it's because we were in a small town with no con scene when we started...)
That said, it means they need more outside help than we do - and I think they handled it exceptionally well. For one, they brought in a security team run by "Rabbi" of ACen's IRT. Now, I've always been an outspoken opponent of dedicated security teams, and have made many statements on record about why No Brand Con will never bring one in. That said, Rabbi ran a very good team, and are probably the only competent group in the con scene I've witnessed.
You have no idea how much that's high praise coming from me.
And Geek.kon was absolutely correct in bringing them in. Because they did, there were absolutely no staffing problems, and I want to say that I was exceptionally impressed by this group.
Later that day (after stopping by the vendor room) I decided to go attend the Famicom Dojo panel. Looking at the schedule, it told me it was in the "Greenway" room.
Finding the Greenway room was a bit of a problem.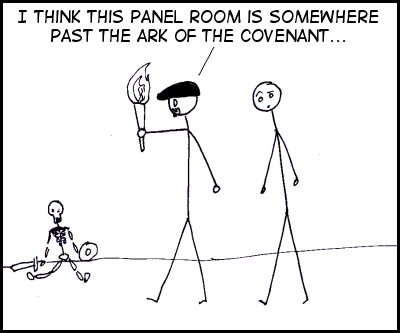 I swear, that room was in the middle of nowhere. You had to go around and behind the bar to find it I think. I hope that Geek.kon rethinks that little part of their layout, as I think every panel that used that room was very sparsely attended.
On the upside, the actual panel (as always) was entertaining, and worth the journey.
Much of the afternoon was spent hanging out with friends. I wish I had something interesting to detail there, but I really can't offer up anything.
I normally go to the cosplay contest, but there was a small event that derailed that intention. I won't go into the incident too much, as it's not my proudest moment, but I don't think I lost (nor made) any friends in the process -- so we'll call it a wash and move on.
I stopped up by the hotel room several times, and every time I had to fight my massive acrophobia. See, all the rooms in this hotel were open to central courtyard. On the second floor, it's no big deal for me. At the fifth floor though, where my room was, it sucked major ass.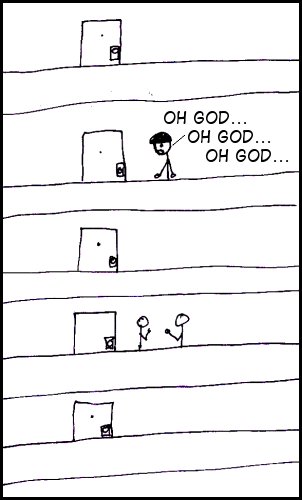 Yeah, so I'm going to make sure my room is on a lower level next year.
That night, after spending more time with friends (which is really what I did for most of this con), I ran into the Verssen Werks crew again. Vanessa and Kaylene were doing, of all things, a panel on Yaoi. They informed me it would be more of an academic presentation, so I decided "what the heck" and attended the only Yaoi panel I have ever attended in my life.
It was actually quite good, much to my surprise.
I ended up hanging out with quite a few people that night, and I honestly can't tell you who all was there. Throughout the con I saw people I've known for over a decade like Meep and SeanOrange, people I've known from the con scene for quite a while like Kellin, Sam, John from Fast Food Anime, FirstAgent, Sarah Bloy, and then finally people I've known from Eau Claire who I until recently hung out with quite regularly like Tall Katie and Yushi.
At about 2am I was just too tired (due to my three hours of sleep) and I went to bed.
I was woken up several times that night, and I'm not too happy about that. Harley, I'm just going to say it -- you're LOUD.
At one point, when Harley finally went to sleep, he started snoring loudly... and then he started
yelling in his sleep
.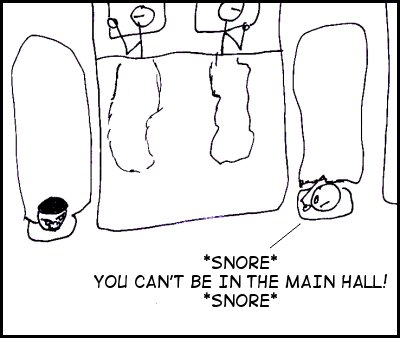 Not only was he yelling, but as he had been working for the con all day, he was apparently still staffing in his sleep. He said several things about people showing him their badges... it was strange.
Eventually I fell back asleep.
Sunday
Sunday morning I went out to breakfast with Wurm at the local Denny's, and spent my time talking with people and just hanging out. I did my final shopping in the Vendor room, but as I had a long, long drive ahead of me (as I had to swing through Milwaukee and stop by my parent's house) I left the con just before noon.
All in all, personal hiccups aside, I had a good time at Geek.kon 2010. I would definitely recommend that everyone and anyone attend next year as well, and it remains tied for my favorite con I don't run.