Vanity Press Presents 'Fanboy'
---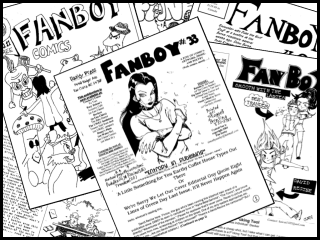 Fanboy was a Zine produced mostly by David Recine between the years 1995ish and 2006ish in the Eau Claire area. Originally a project he started in High School, it slowly became an odd Eau Claire area comic scene establishment until David left the area (surprisingly not fleeing under threat from torches and pitchforks as most had predicted). Most Zines like this get lost forever, destined to disintegrate into the ether. Thanks to the wonders of the internet though, and the hard work of regular Fanboy contributor Nate Le Barron, the entire run of Fanboy has been preserved for future generations to raise an eyebrow at.

Each issue is presented as a PDF. While you can read them on your computer, we recommend printing them out and poorly stapling them together for the optimal reading experience.

Note: I have attempted to be consistent when crediting names. If a regular contributor's name changed during the run of the Zine I have listed them as their more recent name (e.g. Chris Risberg-Decker). People's whose names changed after the end of Fanboy are credited as the name they had during the run. I have tried to be complete in my credits, but I may have missed names and (due to David's irregular editing) had to guess as to the true spelling of others. If I have missed a credit, please tell me and I will make a correction. I have also tried to note major milestones - if there are others you'd like me to note, please tell me.
---