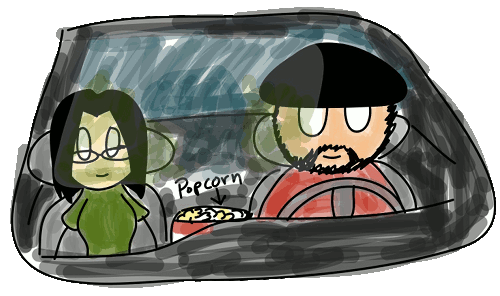 So this weekend was the first of Drive In season down here in Indiana. Crysta and I went out to
MELS at the Starlite Drive In
down in Mechanicsburg, IN on Saturday night to enjoy a double feature.
MELS is sadly still running non-digital gear, so their film pickings are quite slim this season. They're trying to get the money together to go digital, but I think they've only raised a quarter of the amount. Honestly, I like the place - so I always donate a bit, but it's far from my favorite drive in to go to. Still, I hope they are able to upgrade, because they're still nice people.
This upcoming weekend is the opening for my
favorite
drive in,
The Lake Shore Drive-In
up in Monticello (Crysta and I live about equidistant between Lake Shore and MELS). Lake Shore went digital years ago, so there's no real worry about them going anywhere. Lake Shore, as a facility, is just nicer in general.
It also looks like Lake Shore put up a new screen since last season, so I'm excited about that. If I was going to recommend someone try a single drive in, it would be this one.
There's just something fun about Drive In theaters though, sitting outside on a summer night watching a movie. You can't replicate that any other way.
And I'm glad there are a few still out there.