No Brand Con Approaches!
Posted April 22, 2014 - 9:03:3
---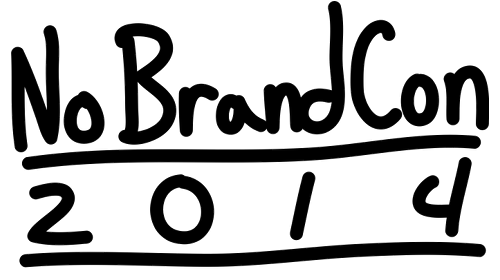 So this upcoming weekend is a convention dear to my heart -
No Brand Con
, in Eau Claire, WI. Mostly because I'm one of No Brand Con's co-founders. I'm not actively staffing the event anymore (due to my living about 500 miles away), but I make it my mission to be there anyway.
Because, y'know, I love that con.
Needless to say, I'm super excited about this con. And just because I'm not actively a part of the hard working crew there doesn't mean I'm just taking this con off. I've got a pretty full schedule... which I thought I'd share.
First off, I'm going to be in the Artist Alley most of the weekend. There you can find me, print copies of
UnCONventional
and
The Chronicles of Crosarth
, and just general awesomeness. Beyond that, I'm doing several events and panels:
Nerd & Tie LIVE!
Friday 10:30PM, No Mercy Room
Join Pher Sturz, Nick Izumi and myself for a live recording of our podcast Nerd & Tie. This is our second live show, so it ought to be a ton of fun. Also, we're in an 18+ room... so... expect the same show as always? Yeah.

HANZO THE RAZOR: SWORD OF JUSTICE
Friday 11:59PM, No Mercy Room
A No Brand Con tradition, I host a showing (and public mocking) of the first Hanzo the Razor film. Audience participation is encouraged as we mock one of the strangest films to come out of Samurai cinema.

How to art?
Saturday 1:00PM, Main Programming
It's a webcomics panel! So I've been told! I think! No one's given me an exact description! I was just asked to be on it! Join Awkward Zombie's Katie Tiedrich, Parking Gulls's Erika Flanagan and... me. For a panel. On something. That's webcomics related. I think... or an elaborate trap to kill me.

Not sure.

No Brand Con 2014 Cosplay Contest!
Saturday 7:00PM, Main Programming
Join Nick Izumi and me as we host the 2014 cosplay contest! I've hosted this contest for many years, but this'll be the first time I do it without wearing a mask! You'll see my face and everything! Hooray!

I may still bring the rake.
So that's the whole schedule. That's like seven hours of work for a con I'm not staffing any more.
Wait, if I'd done just three hours more, I could have gotten in for free.
I
may
be an idiot.
- Traegorn
[
Comments ( 0 )
][
Trae's Blog
]
[
Powered by TRHBlogs and lots of Caffeine
]