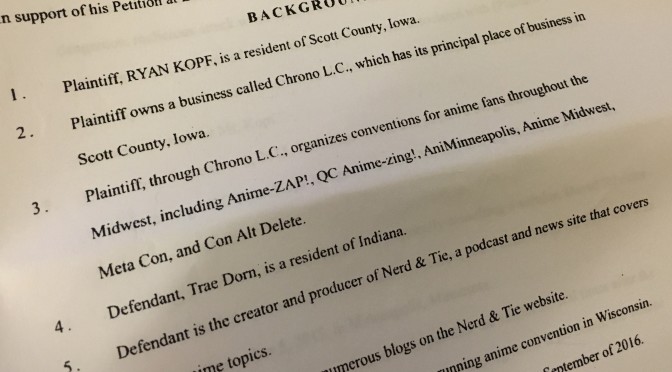 So we do a lot of stuff at Nerd & Tie. We're starting a
new convention
, produce a
podcast
, just launched
a new show
, run panels at conventions, maintain a
geek news blog
, and provide
in-depth coverage about conventions
. That last one is a particular point of pride for us, as we do our best to dig for stories most other convention news blogs avoid or don't take time to investigate. Most of that coverage starts with reader tips sent to us via our contact form or email address.
AnimeCon.org/Chrono LC CEO Ryan Kopf has apparently taken issue with our coverage of some of his events though, and last week I was served a petition at my home. Ryan Kopf is suing me for defamation in the state of Iowa.
The case (CVCV295431) is specifically about the following two articles:
Now, I don't want to discuss details, but I still stand by what I wrote - as do Nick and Pher (who co-own Nerd & Tie with me). I have secured legal counsel, and intend to fight.
But this isn't going to be cheap for me.
Because of this, I'm launching a
GoFundMe campaign
to try and cover my legal costs. If you can contribute, please do - as we aren't exactly a big operation at Nerd & Tie, and can only continue with the help of people like you.
Wish us luck... and, y'know,
help out if you can
.