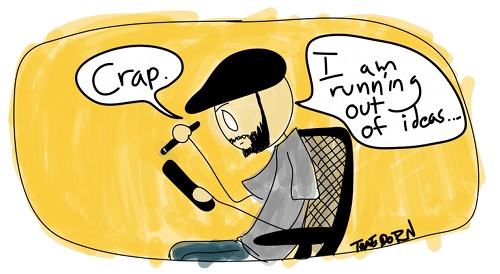 So one of the challenges of writing any comic is knowing exactly when it should
end
. I mean, I've known since early on in
The Chronicles of Crosarth
's lifetime that it was going to end mid-2019 (it's going to be about 800 pages in the end), but that comic had a very planned story arc from the start.
But
UnCONventional
is a very different story. While I usually come up with the big arcs years in advance, a lot of it is written just based off of what I feel like at any given moment. The problem is though that over time I've started to run out of unique stories.
I mean, there's still some stuff I haven't done yet, but there are only so many unique events that can happen at conventions. So, a while ago, I decided I was just going to have to
stop
.
Now nobody panic, okay?
First off, y'all know I'm a planner, right? I have story arcs laid down for UnCONventional for a while, and I intend to complete
all
of them. That means that this "end date" is the end of November 2019. That means you have a few years more of story left. Secondly, this doesn't mean it's the last you'll hear from the UnCONventional cast -- I still love telling their personal stories, and some may find their way into other projects of mine.
Chapter 10 will be final UnCONventional chapter though, and
that's okay
.
I know it seems weird to announce something like this so far out, but I made this decision a while ago, and it seems strange not to share it with you guys. I've always been pretty open about the process behind the comics, and to not tell you guys about such a big behind the scenes decision felt odd...
...so now you know.
Oh, and just because both my comics are ending at different points in 2019 doesn't mean I'm going to stop doing comics
entirely
-- I'm just going to launch new ones. Maybe do a few short run, stand alone stories.
It's going to be fun, trust me.