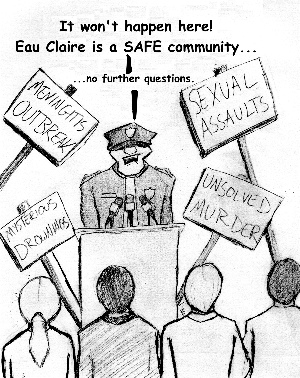 About a year ago, a young man went missing in Eau Claire. He was last seen leaving a bar, possibly inebriated. He disappeared without a trace that night. Later, his body would surface in Half Moon Lake. It was a tragedy, and it was declared an accidental drowning by the Eau Claire Police Department. Now, you might think that I'm talking about Michael Noll.
I'm not.
I'm talking about Craig Burrows. Craig, age 23, was last seen alive on September 29th. Why no hoopla? Because it was only a week later that his body was found. Oh yeah, and he wasn't a student. But Christopher Jenkins was. And we heard about him, along with two other missing students that month. What we didn't hear about was when his drowned body was dragged from the Mississippi in February 2003.
So, when Michael Noll's body was found in Half Moon Lake that March, was a connection drawn? Three young men mysteriously disappear within almost a month, and are later found drowned? Two in the same lake, which is less than fifteen feet deep?
No sirree. "Accidental Drowning" was again the official line, and any connection dismissed.
Of course, what most people don't know (or remember), is something a wee bit similar that happened in La Crosse not too long ago. Dial back our time machines to October 2nd, 1997. Charles Blatz, a UW Platteville student was visiting La Crosse for their annual Octoberfest. Charles was out drinking, and was last seen "in good spirits" according to a friend, visiting bars near Third and Pearl. Charles would disappear that night, only to be later found drowned in the Mississippi. As time passed, three more young men would vanish in the same way, all only to resurface a little more water logged than human life can support.
Four young men, all visiting the same area, all disappear, and now all drowned.
But guess what: Their deaths were listed as "Accidental." Apparently the La Crosse Police Department and the ECPD use the same handbooks.
I've heard the justifications that "This happens when a town has a body of water, and people are drunk." Well, to answer that, I did some research. On a LexisNexis search (a right handy tool for searching newspaper articles, for the uninitiated) for "University Drowning" over the last two years, I found only seven relevant cases of university-aged people drowning in a possibly "intoxicated" state nationwide. Oh yeah, and one of them was a male in his early 20s, found in Madison's Lake Mendota last June.
So, really, this doesn't seem like a normal occurrence at most universities. But was a connection ever truly drawn by the police? Probably. I think that even the ECPD isn't that stupid. But this is a University town. It's supposed to be safe, and bad things aren't supposed to happen here.
Well, it's not, and they do.
But that's not the image that the town and University want. No, the UWEC website advertises our fair city as being "Consistently ranked as one of the safest cities in the U.S." If the unsolved murder rate were to increase, I'm sure that wouldn't help.
I mean, really, how many of you remember Karen Hubbard? I'm sure the residents of Oak Ridge do. It was in an Oak Ridge bathroom where she gave birth to a child. This childbirth would kill her, and her child. Of course, that was two years ago, and it's not like they put it in the UWEC recruitment brochures. But still, we seem to maintain a short memory. No, this year it's car crashes. You can't help but get killed in a motor vehicle this year.
Well, I guess that's better than the freakish statistical oddity that occurred in the Chippewa Valley over a year and a half ago. Multiple, unrelated strains of a "nearly impossible to catch" disease infected at least five people, and took the life of a good friend of mine. That's right freshmen, if you want to catch Meningitis, Eau Claire is the place to be.
But no one denies the car crashes and disease outbreaks. Frankly, they can't. But those are risks that have little to do with any sort of dark, human behavior that makes a place "safe" or not. No, what's important is what we ignore. In the past semester, we've seen discussions in the Spectator regarding the sexual assaults at Stout. But the general attitude has been that this can't happen here. Well, guess what--it has and it does. We've had our own share of incidents in our peaceful little town. Already this fall, a female UW-Eau Claire student has been sexually assaulted.
Of course, you probably didn't hear about that, since the University didn't put out as much as a single release. Another truth sacrificed to the gods of an unsoiled image. I'm not asking for details, or anyone's names--but I think that at least an announcement about it would have helped raise a much needed awareness on the subject.
And while the local television news said a whole five words about it, nothing would appear in the campus paper. At about the same time, in the September 29th edition of the Spectator, Lt. David Sprick of the University Police said he did not think that sort of thing would happen at UW-Eau Claire. Why? Because things like that don't happen in our town.
But they do. In fact, Sprick said he couldn't think of any similar incidents around campus beyond a burglary from last year. Well, the good Lieutenant is just a University police officer, so I guess he wouldn't know about Karanda Chamberlain's brutal rape after visiting an Eau Claire house party back in December of 2000. Or maybe back in June 2002, when a 21 year old woman was kidnapped from an Eau Claire bar, and found herself in an unknown hotel room. No, these must be completely dissimilar, apparently, to the concept of a sexual assault.
But again, Sprick is a University police officer, and none of these incidents were on campus. Yet I am forced to ask why Sprick didn't talk about the four reported sexual assaults in the 2001-2002 school year. The University Police list the statistic on their own website quite clearly. At least, you know, they sound related to me.
Of course, an April 2002 article by the Associated Press found that many Universities under-report rapes and sexual assaults, so maybe I shouldn't be surprised.
And that's the point. When you lie to people, you provide them a false sense of security. Sure, everyone feels safe, but in fact, you're putting them more at risk. The ignorant child doesn't always know to not stick a fork into the wall socket. Hey, I'm speaking from experience.
But, my point is when we remove the information, we remove the ability of people to defend themselves. We strip people of their ability to make appropriate decisions. I'm not saying we should all walk around scared--in fact, that's as useless as being ignorant. But what we must be is wary. You have to know that the risks are out there. You can't make them go away by denying them, or not wanting them there. If you're going to go out, get drunk, and try to walk home alone, you shouldn't be surprised when something bad happens too you. The point is not to be paranoid, but aware.
You're not safe, you'll never be safe, so you better play it safe. Get over it and grow up. Our "safety" is a myth. Know that.
(Oh yeah, and Angelina Wall's killer still walks free. In case you've forgotten, her strangled body was found just west of Fall Creek on January 6, 2001. At this time, no suspects have been arrested in the case.)